Back to all posts
Posted on
French Immersion Trip 2024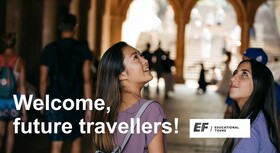 We are excited to announce that the French Immersion grade 7 and 8 students from École Deer
Meadow School will be traveling to Quebec in April 2024. Our trip will be taking place in partnership
with Education First Tours, who has over 50 years experience with organizing school trips.
Our students will be participating in the Bonjour Quebec trip which includes a 6 day trip between
Montreal and Quebec City. The students will be sightseeing, participating in activities and visiting
historical sites all while using their French language in authentic ways.
Click here to see more information.

To join the trip, please visit www.eftours.ca/enrol using the code 2637776PP

Sincerely,
École Deer Meadow School French Immersion program.